Cause Project
COVID: Your small contribution may provide Happy Moments and life-line to Poor/Needy Daily Wagers in Slums/JJ Colonies by providing them Free Food Packets and Groceries
by
ABHINAV SAMAJ
In current times we are experiencing a very unique & unprecedented situation due to second-wave of COVID around the world. Since every country in World is suffering from this deadly disease. However Vaccines are being provided to public but still it had to take a long way to normalise the life of people on earth as COVID started to spread its wings more and more dangerously. Still precautionary directions of WHO have vital role to stop the spread of this deadly disease but people are not much aware of it. They are careless to all precautions as everyone knows that people have to save themselves only, government and police cannot be available everywhere to protect them.
As World gears up after unlock after lockdown, and now second-wave is effecting around the world, the impacts of the pandemic are still going to be greater than what we can see or imagine. However, life is going towards normal in many areas but still circumstances are critical for many poor families.
Sectors ranging from travel to tourism, hospitality to manufacturing, construction to retail are still in crisis. Millions of daily wage earners, hawkers, street vendors and other un-organised sector people still have no sources to feed themselves and their families since the more and more precautious actions are being taken by all governments.
Due to lack of employment chances it is difficult for them to sustain since they have no jobs, no work and no source to earn livelihood.
This is an opportunity for non-profits to prove their mettle and create an ecosystem of collaboration and support. We at ABHINAV SAMAJ are working for this cause to our best.
However Government is also trying its best to stop the spread of this deadly disease but Government cannot be succeeded without the help of Society.
We at ABHINAV SAMAJ provides them food, masks and sanitizers, motivate them to abide by the directions of WHO, to wear masks, maintain social distancing to save themselves from this deadly disease and also help them to take to government hospitals if any of them feels any symptoms of Cough, Cold or Flu. For the purpose we are running one Medical equipped Van, consisting of 2 Doctors and 3 volunteers in Delhi regularly since 15th of May 2020.
We have two Food Distribution Vans who are distributing Food, Masks and Sanitizers in such slum colonies of Delhi where the most of such people are living in un-hygienic conditions.
During the period w.e.f. 15th May 2020 to 14 April 2021 we have distributed 2,10,250 packets of ready-to-eat Food, 1,78,850 Masks, 29,310 bottles of Sanitizers, 29,300 pcs. of Dettol Soap in such JJ/slums colonies.
To continue the noble cause/Project we need help and cooperation of the society.
Due to our financial limitations currently we have started this project with two Vans only. Later on as soon as we gets sufficient funding we shall increase the number of vans and mobile-dispensaries.
So we request all our well-wishers to provide us their full support so that we could work continuously for the welfare of SOCIETY.
Your small contribution can give smile and can be a lifeline for poor who have nothing to feed themselves and their families from hunger.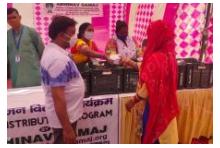 How Donations Work
Click any 'Donate Now' button and then decide your donation amount. You will then be forwarded to your payment processor of choice. Once your donation has been processed it will be sent to your charity of choice.
Need Some Help?