The COVID-19 pandemic causing the death of app. 230.000 people globally as of late April, has also reached Africa. The implications for the African population may be the most significant health and economic threat ever in history.
The present project will launch the production and distribution of community available, recyclable cloth masks and soap accompanied by preventive hygiene guidelines and instruction material to two separate populations in vulnerable communities in Guinea-Bissau and Sierra Leone, West Africa with a total target group of app. 100.000 individuals.
The initiative has come about through the cooperation between Engineers without Borders Denmark (EWB-DK) and the University of Southern Denmark (SDU). Both organizations have prior long standing experience in Africa and are already established with reliable, well-known local partners in Sierra Leone and Guinea-Bissau, allowing for fast and efficient interventions.
Present project addresses multiple needs with the objectives of
1) Reducing the spread of COVID-19 in Guinea-Bissau and Sierra Leone
2) Protecting the lives of vulnerable communities
3) Generating income through local procurement and production of recyclable cloth masks
4) Scientifically assessing and evaluating the impact of cloth masks in an African context.
It is worth noting that the present project may relatively easily be scaled up and replicated in other locations, both within the two target countries as well as other African countries.
Key focus: Low-cost community solutions, sustainable local production, validation of training methods, adaptation of production methods to local context, adequate and localized information and communication material combined with clinical evaluation of effect.
This project aims to provide and scientifically to document a local and viable strategy to protect the lives in African communities by providing recyclable masks as well as soap and informational material for African citizens. Face masks must be handled using proper procedures to minimize the risk of getting infected when putting on, wearing and removing the mask. In the test population the recipients will therefore also receive oral and written information on this, along with the advice that masks do not substitute the well-known preventive measures: frequent hand washing and social distancing.
The impact of providing recyclable, handmade cloth masks will be evaluated by SDU in close collaboration with their local partner in a population-based randomized trial.
Context
Sierra Leone is a post-conflict, fragile country in Western Africa of roughly 72,000 square kilometres and with about 7.5 million inhabitants, still struggling to rebuild itself after the end of 11 years of civil war in 2002, and the more recent Ebola epidemic of 2014. The country's health system was significantly damaged by the Ebola Outbreak in 2014-15. Though there has been an increase in investments post-Ebola to strengthen the health system, health facilities in Sierra Leone are still understaffed, under-resourced, and often without a regular supply of running water or power leaving healthcare workers and their patients highly susceptible to contracting and spreading COVID-19. Additionally, as learned from the Ebola-response, local and community-appropriate messaging on proper health hygiene is key to prevent any mistrust between the community and the health facilities, and to mitigate the spread and any misinformation on COVID-19. Therefore, at the relatively early stage of the COVID-19 outbreak in Sierra Leone, it is crucial to provide prevention measures based on lessons learned from Ebola (CHS 1, 2). The distribution will take place in the eastern region of Kenema where EWB-DK has been working with Water, Sanitation and Hygiene (WASH) and health-related intervention through local partnerships since 2009.
Guinea Bissau is a fragile West African country, and one of the poorest countries in the World. The country covers 36,125km2 and has a population of around 1.9mio inhabitants, but more than half of the population resides in the capital city, Bissau. The country is still marked by a bloody war for independence from Portugal in 1974 and deadly civil war in 1998-99, with more than 50.000 casualties. After the civil war, the political system in the country has been unstable with several coups, and the political situation is still unresolved after a recent election in December 2019. In contrast to Sierra Leone, no cases of Ebola was confirmed during the 2014-15 Ebola epidemic. However, the political instability and economic stagnation cause continuous and ongoing strikes of the health personnel. Hence, the health system remains under-resourced and understaffed, leaving health care workers and patients very vulnerable and susceptible to contracting and spreading COVID-19. Guinea-Bissau is highly dependent on external funding and health personnel in times of crisis. To help prevent a rapid COVID-19 outbreak in the country, it is, therefore, crucial to ensure preventative measures such as community sensibilization on health hygiene, social distancing and COVID-19. The distribution of prevention measures will take place in the very densely populated area of Bissau using the Bandim Health Project's (BHP) Health and Demographic Surveillance Site (HDSS), which follows a population of more than 100,000 inhabitants.
The mask is designed in Denmark and it is designed to provide effective protection while utilizing local skills and materials. Mask efficiency depends to a high degree on its ability to seal properly to the face: the mask must be tight-fitting. To secure proper fit to face a small wire is inserted at the nose bridge to seal the gap between the nose and cheek (in contrast with conventional, loose-fitting pleated "surgical-type" masks which does not have a nose sealing capacity). Locally African available fabric has been utilized in the design and test process and it has been selected based on its protective capabilities and the ease of breathing. Detailed video instructions have been produced in order for local tailors to manufacture the mask, and a feedback mechanism has been established so that any needed for modifications to the design or questions on production are relayed back to the Danish design team.
Production in Sierra Leone will take place at OTC, which is a vocational training centre that offers vocational education and skills training for youth living with disability in the Kenema area, giving them an opportunity for an independent future. Besides the production of facial masks, the initiative will also induce a possibility for income generation for a particular socially vulnerable group.
Production in Guinea-Bissau will take place at market places by small self-employed tailors and dressmakers. The activities will be organized by the Bandim Health Project with a set-up, implying a possibility of prepayment and/or handing overall raw materials to finance start-up costs.
Target population
The target population in Sierra Leone is at the community level and the aim is to reach app. 30.000 persons primarily in rural communities. In Guinea-Bissau, the target population is vulnerable households in the urban areas of the capital Bissau constituting app 70.000 individuals.
It is advisable not to distribute the mask to children under the age of 10 insofar that proper use (safe handling of the mask) might be difficult for smaller children to understand, hence adequate use and safe handling might be jeopardized. In both locations persons above ten (10) years will constitute the recipient population of the mask.
Evaluation of impact – a cluster-randomized trial
A Research Protocol developed by SDU and Bandim Health Project HDSS (BHP) is currently undergoing local assessment to obtain formal approval by the Ethics Committee in Guinea-Bissau. As close contact has been upheld with the Ethics Committee granting of approval is expected during May.
BHP in Guinea-Bissau has more than 40 years' experience in assessing the real-life effect of health interventions, such as vaccines and micronutrient intervention.
BHP follows a population of around 100,000 people in urban Bissau, corresponding to approximately a third of the capital's inhabitants. Households are all mapped, regular censuses are conducted, and women and children below three (3) years of age are monitored through four-monthly household visits. The research area consists of multi-family houses, where up to four families live together. There is an extreme degree of crowding, which has previously been shown to facilitate the spread of e.g., measles and lead to intensive exposure, correlating with increased mortality risk.
The objective of the research is to carry out a randomized controlled trial to assess the impact of providing cloth face masks for an urban population amid the COVID-19 epidemic.
The hypotheses are that the use of cloth face masks and its provision together with preventive messages, will reduce reported COVID-like illness by 8% and all-cause mortality by 20% in households allocated to face masks.
Masks will be introduced to the research area population in a randomized manner. A randomly selected half of the households will be the first to receive masks voluntarily. A BHP field assistant will visit these households, and masks will be provided to all inhabitants above ten (10) years of age. In addition, advice on use, along with a bar of soap, and information material about handwashing and social distancing, etc. will be administered.
During all household visits, the assistants will take duly care to wash hands and maintain social distancing, to avoid transmission of the virus. Follow-up will take place by telephone.
By the end of follow-up, the randomized households not having received a mask, will then also receive a mask, unless study results indicate that this is not a feasible intervention.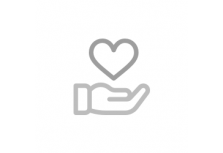 How Donations Work
Click any 'Donate Now' button and then decide your donation amount. You will then be forwarded to your payment processor of choice. Once your donation has been processed it will be sent to your charity of choice.
Need Some Help?