INTRODUCTION
The Instituto Familia Barrichello combats social inequality in Brazil through sport and social assistance to low-income families and currently benefits 3,000 families.
Since 2020, we have been supporting 1000 families that make up 30% of our public most affected by the Covid-19 pandemic. Of the 29 communities we serve, eight, located in the extreme south of SP, in the region of Marsilac and Parelheiros (district that has the smallest IDH in São Paulo) are the most needy and needy and unfortunately directly affected by unemployment and this has generated hunger, exclusion and despair.
WE NEED YOUR SUPPORT
More than 633 thousand Brazilians have already died in Brazil (official data from 02/07/2022). Currently, hospitals are full (85% of capacity) because of the new variant (Omicron) and the situation is very critical. There is no food on the table of poor families. In Brazil there is a 12.6% unemployment rate, representing 13.5 million unemployed people.
Poor families lack food on the table. In a survey conducted between March and May 2020, we have the following scenario:
* 100% of families have members between 7 and 14 years old (children and adolescents);
* 62% of families are without a source of income;
* 81% of families have unemployed people;
* 39% of families are headed by a woman alone without support from a partner;
* 20% of families pay rent
* 37% of families have between 5 and 7 members who live in the same residence.
OBJECTIVE
This initiative aims to promote the donation of food stamps, minimizing the effects of the crisis in the most vulnerable areas. The Institute will deliver to each family with the support of local partners and will accompany the families during this process with the support of a Social Worker.
OUR GOAL
Our goal is to raise 72 thousand dollars (about 360 thousand reais) to help 1000 families.
The goal is to guarantee food security for 3 months for 1000 families. Each family will receive a food voucher worth R $ 100.00 for 3 months.
ABOUT THE FAMILY BARRICHELLO INSTITUTE
http://www.institutobarrichello.org.br/
DOE ALIMENTOS PARA FAMÍLIAS DE BAIXA RENDA IMPACTADAS PELO COVID-19 NO BRASIL
INTRODUÇÃO
O Instituto Família Barrichello combate à desigualdade social no Brasil por meio do Esporte e da Assistência Social junto a famílias de baixa renda e beneficia atualmente 3 mil famílias.
Desde 2020 estamos apoiando 1000 famílias que compõe 30% do nosso público mais afetado pela pandemia da Covida-19. Das 29 comunidades que atendemos, oito, localizadas no extremo sul de SP, na região de Marsilac e Parelheiros (distrito que possui o menor IDH de São Paulo) são as mais carentes e necessitadas e infelizmente afetadas diretamente pelo desemprego e isso tem gerado fome, exclusão e desespero.
PRECISAMOS DO SEU APOIO
Mais de 633 mil brasileiros já morreram no Brasil (dados oficiais de 07/02/2022). Atualmente os hospitais estão lotados (85% da capacidade) por conta da nova variante (Omicron) e a situação é muito crítica. Falta comida na mesa das famílias pobres. No Brasil há 12,6% de taxa de desemprego, representando 13,5 milhões de pessoas desempregadas.
Em pesquisa realizada entre março e maio de 2020 temos o seguinte cenário:
* 100% das famílias possuem membros entre 7 e 14 anos (crianças e adolescentes);
* 62% das famílias estão sem fonte de renda;
* 81% das famílias possuem pessoas desempregadas;
* 39% das famílias são chefiadas por uma mulher sozinha sem apoio de companheiro/a;
* 20% das famílias pagam aluguel
* 37% das famílias possuem entre 5 e 7 membros que moram na mesma residência.
NOSSO OBJETIVO
Esta iniciativa tem por objetivo promover a doação de cestas básicas e itens de higiene, minimizando os efeitos da crise nas localidades de maior vulnerabilidade. O Instituto fará a entrega para cada família com apoio de parceiros locais e acompanhará as famílias durante este processo com suporte de Assistente Social.
NOSSA META
Nossa meta é arrecadar 72 mil dólares (cerca de 360 mil reais) para ajudar 1000 famílias em 2022.
A meta é garantir segurança alimentar por 3 meses (40% do ano) para 1000 famílias. Cada família receberá uma cesta alimentação no valor de R$ 100,00 por 3 meses.
SOBRE O INSTITUTO FAMÍLIA BARRICHELLO
http://www.institutobarrichello.org.br/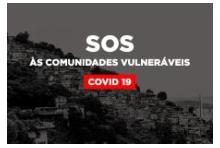 How Donations Work
Click any 'Donate Now' button and then decide your donation amount. You will then be forwarded to your payment processor of choice. Once your donation has been processed it will be sent to your charity of choice.
Need Some Help?