Join us with you donation! 100% of funds raised for the COVID-19 Response Fund will be distributed to the 200 member Feeding America food banks across the U.S.
With our nation in the grips of COVID-19, we are meeting increased needs of today while preparing for continued challenges in the weeks and months to come. The situation is changing rapidly, but our analysis predicts that our food bank network will need an additional $1.4 billion over the next six months to provide food assistance to everyone facing hunger—a 30% incremental increase to our operating costs. This figure is based on projections that the pandemic could push as many as 17.1 million more people into food insecurity.
These numbers are staggering, as are the stories of people now facing hunger. Their needs are increasing by the hour, and the effects will be felt for many months, if not years, for the most vulnerable Americans. But, in the face of enormous challenges, Feeding America food banks are responding with extraordinary efforts to make sure no one goes hungry during the pandemic. They can't do it alone, and you can help.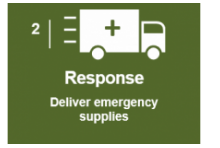 How Donations Work
Click any 'Donate Now' button and then decide your donation amount. You will then be forwarded to your payment processor of choice. Once your donation has been processed it will be sent to your charity of choice.
Need Some Help?