Cause Project
Support for Ukrainian lawyers affected by russian military aggression - those who continue to provide legal aid to vulnerable groups
by
Ukrainian Legal Aid Foundation
Today an evil, cruel and insidious war is going on in Ukraine. To us, those in Ukraine, it seems that we have faced evil as such, not just an evil enemy, but evil in its essence, which poisons people. In the conditions of war, when the enemy destroys homes, kills and rapes, destroys everything we love so that we despair, in these conditions it is important to remain human and believe in the power of goodness and justice. We really need to support our lawyers. Today, many (thousands) of lawyers across the country have become homeless, many have lost relatives, and many have lost their health.
Ukraine is a democratic legal state in which the Constitution enshrines the right of people to legal aid and a fair trial. In order for this right be effective in Ukraine the state has created a Free Legal Aid system, which involves advocates of the National Bar Association to represent the interests of people in courts, and state Free Legal Aid system also has thousands of lawyers in staff who provide advice, help to form the necessary legal document, help in out-of-court disputes (mediation practices, psychological practices, etc.).
In addition to the state Free Legal Aid system, the activities of which are paid for from the state budget, there are various networks of legal aid providers operating in Ukraine - these are public receptions of CSOs, in which lawyers provide legal assistance to vulnerable categories of people. The fact is that despite the large number of reception centers, vulnerable groups in Ukraine do not believe too much in the fact that someone wants and can help them free of charge, so the environment of public reception centers to some extent specializes in certain types of customer categories. Of course, there are groups of clients who do not go to any public receptions, such as victims of domestic violence. For such people, legal aid providers offer various technological solutions (mobile applications and chats in messengers).
The Ukrainian Legal Aid Foundation has been working on the legal services market of Ukraine for 11 years and is involved in most of the processes related to ensuring people's right to justice. From the design of the state Legal Aid system and support of its work in the first years (methodology recommendations, trainings for lawyers and on the best defense practices, organization of conferences and other events for professional exchange of experience), to the creation of networks of non-state legal aid providers - all this is the work of the Ukrainian Legal Aid Foundation. It can be said that in Ukraine people have the opportunity to ensure their right to justice, although there are many ways to improve people's access to justice and we have a lot to work on.
The purpose of this campaign is to raise funds to help lawyers who have suffered from russian military aggression—those who work and help vulnerable groups of people.
Ukrainian Legal Aid Foundation with partners have already documented thousands of cases of war crimes against Ukraine and our people. It is important for us that lawyers—those who help others, are protected themselves. You really can support them.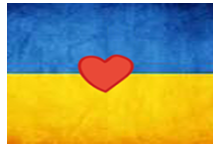 How Donations Work
Click any 'Donate Now' button and then decide your donation amount. You will then be forwarded to your payment processor of choice. Once your donation has been processed it will be sent to your charity of choice.
Need Some Help?