Cause Project
Underprivileged families where the breadwinner has met with sudden demise due to Covid 19
by
SEED Plan
The COVID-19 pandemic is one of the worst health and economic crises in modern history and it continues to require the best of humanity to overcome. Your donation to this fund will help stop of the COVID-19's spread and protect us all.
This crisis threatens everyone's way of life, but it is especially difficult for some of us, including people with pre-existing medical conditions, older adults, individuals experiencing homelessness, refugees and migrants, wage workers, communities of color, and those with inflexible jobs.
Your donation to this fund will help stop the virus's spread in Tamilnadu in india and give communities on the front lines of the crisis the resources they need to act quickly and protect the most vulnerable.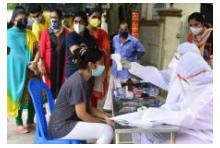 How Donations Work
Click any 'Donate Now' button and then decide your donation amount. You will then be forwarded to your payment processor of choice. Once your donation has been processed it will be sent to your charity of choice.
Need Some Help?