SEED the 35 neglected elderly persons are suffering with starvation, ill-health in our project area. The age group of these older people is 65 to 80 years. Sometimes they used to beg on the streets to feed themselves. Their pathetic condition forced us to feed them with nutritious meals to keep them healthier. Most of them are having anemic problem due to lack of food and medical care. Most of them are not having home and sleeps at neighbor houses, school verandas, and community halls and at bus stop
SEED this project solves the problem by providing every day nutritious meals and medical care to 35 elderly people. We provide Vegetarian meal with egg, rasam, curd and vegetable curry.
SEED will stop starvation among destitute elderly people in Karur ,Trichy Namakkal Districts of Tamil Nadu.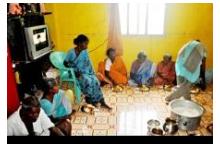 How Donations Work
Click any 'Donate Now' button and then decide your donation amount. You will then be forwarded to your payment processor of choice. Once your donation has been processed it will be sent to your charity of choice.
Need Some Help?