Bağışçı Bulma Olanağı
Movember US 2019
Whatever You Grow Will Save A Bro
Bağışçı Bulma Etkinliği Sona Erdi
Bu Bağışçı Bulma Olanağı hakkında
90,00 $
Bağışlanan 10.000,00 $
70,00 $ Bağışlar
20,00 $ Eşleştirilen Tutar
This Movember, whatever you grow will save a bro.
Your support will change the face of men's health in the US by raising awareness and funds to find a cure for prostate cancer, testicular cancer, mental health support and suicide prevention.
Sign up or donate at Movember.com You don't have to grow to save a bro, you can also raise funds by walking or running 60 km, hosting an event like a quiz night or a bake-sale, or shave-down to kick off your fundraising.
Men's health is in crisis. Men are dying on average 6 years earlier than women, and for largely preventable reasons.Prostate cancer rates will double over the next 15 years. Testicular cancer rates have already doubled in the last 50. And across the world, one man dies by suicide every minute of every day, with males accounting for 60% of all suicides.
We all want more time with our dads, brothers, partners, friends, and sons: time for more conversations, more catch-ups, more of what life's all about. Now is our time to make it happen!
With your help, we can reach our goals of reducing the number of men dying prematurely by 25% and halving the number of deaths from prostate and testicular cancer by 2030.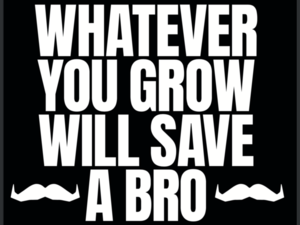 Bu Bağışçı Bulma Olanağı fırsatındaki amaçlar

Culver City, California, 90232, United States
Bağışlar Nasıl Çalışır?
Bir 'Şimdi Bağış Yap' düğmesine tıklayın ve ardından bağış miktarına karar verin. Daha sonra seçtiğiniz ödeme işlemcisine yönlendirileceksiniz. Bağışınız işlendikten sonra bu seçtiğiniz yardım kurumuna gönderilecektir.
Yardıma mı ihtiyacınız var?