As the COVID-19 pandemic continues, putting strains on families across the country, food banks are on the front lines, helping to ensure that vulnerable Canadians are still receiving vital food support during this difficult time.
Food Banks Canada is launching a special $150M appeal to help ensure that food banks can continue their critical work.
You can help make sure that food banks are there for our neighbours now and when the pandemic is over.
All funds will be used to bulk purchase and distribute food and share resourcing with food banks to continue their critical work in local communities.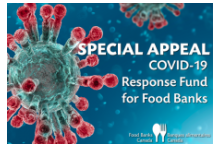 寄付の仕組み
「今すぐ寄付」ボタンをクリックして、次に寄付額を決定してください。その後、選択した支払担当業者に転送されます。寄付手続きが終了すると、選択したチャリティ活動に送信されます。
ヘルプが必要ですか?