Option de don
Support justice and equity for Black Americans (US)
Show your concern for the erosion of civil rights in the wake of racist violence
À propos de cette Option de don
108,02 $US
donnés sur 7 536,52 $US
Events involving racial hatred and injustice against Black Americans are far too frequent. In Georgia, Ahmaud Arbery was targeted and murdered while out for a jog. In Minnesota, George Floyd was killed by a police officer who knelt on his neck. In New York City, Christian Cooper was the victim of a racist act after asking a woman to leash her dog. And in Kentucky, Breonna Taylor was killed by police after they used a "no-knock" warrant to enter her home without warning or identifying themselves. They shot her eight times. These events demonstrate that racism is still very much alive, and we must do the work needed to create a just and equitable society.
Ending anti-Black racism and its violent outcomes needs concrete action to improve the lives of people of color. That is the goal of this giving opportunity. When you make a donation, your generosity will go toward advancing basic human rights for people of color in the United States, fighting for the protections guaranteed in The Constitution, and working toward a just society. There are many organizations devoted to these fundamental principles. For this opportunity, your contribution will help:
NAACP Legal Defense and Educational Fund fight for racial justice and seek equality for all Americans
American Civil Liberties Union (ACLU) Foundation handle thousands of cases each year on behalf of clients whose rights have been violated by individuals and institutions
Race Forward catalyze community, government and other institutions to dismantle structural racial inequality
Northside Achievement Zone close the achievement gap and support families in North Minneapolis
National Urban League advocate on behalf of economic and social justice for African Americans
Lawyers' Committee for Civil Rights Under Law secure equal justice for all through the rule of law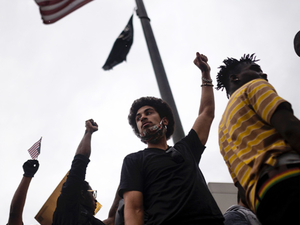 Causes de cette Option de don
Comment fonctionnent les dons
Cliquez sur le bouton « Faire un don maintenant », puis décidez du montant de votre don. Vous serez alors dirigé vers le traitement de paiement de votre choix. Une fois votre don traité, il sera envoyé à l'organisme caritatif de votre choix.
Besoin d'aide ?