Giving Opportunity
East Village People for Wapikoni Mobile
Rock The Causebah 2019
About this Giving Opportunity
This Give Op is in support of Rock The Causebah, Benevity's very own charity rock concert where Benevity-ite bands take the stage to raise funds for causes closest to their heart. This year, we have 6 bands showing off their musical talent and raising money for causes they care about.
Who is Wapikoni Mobile?
Wapikoni mobile is an amazing organization that tours reserves in some of the remotest regions of Manitoba, Ontario and Quebec. They have recently expanded their operations internationally and work with rural indigenous populations. With their travelling studio, they teach indigenous people how to create short films. They get a chance to write, act, sing, dance and tell their stories. The entire crew for each video is made of up youth from the community who learn how to direct, design and build sets, work audiovisual equipment and edit their films in photo/video editing software.
Why Wapikoni?
For many of these people, the remoteness of their reserves and a high poverty level means they have no access to arts programs. The stories are moving, personal and provide a voice to those who would not normally be heard. Many of these films have been critically acclaimed and have won several film awards. These communities are forever changed by this opportunity and some people go on to direct more films and pursue a career in the film and entertainment industry. National Indigenous Peoples day is June 21, so it's a great month to raise funds for a worthy cause.
What are the funds used for?
Wapikoni Mobile will use the funds they receive to increase the range of their operations to more indigenous communities and improve their equipment.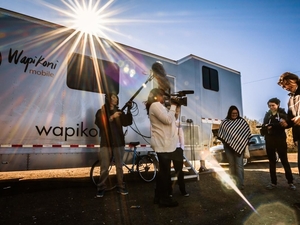 How Donations Work
Click any 'Donate Now' button and then decide your donation amount. You will then be forwarded to your payment processor of choice. Once your donation has been processed, it will be sent to your charity of choice.
Need Some Help?