Wohltätiges Projekt
Support our Free Old-Age Home to provide Free Shelter, Food, Medical-Aid & Care to homeless/destitute Elderly de-sheltered by their owns. Your small contribution can give smile to a destitute
von
ABHINAV SAMAJ

Under this project ABHINAV SAMAJ is working for rehabilitation and welfare for destitute elderly/destitute parents de-sheltered by their own children. Since this problem is very common now in all classes of society. In rich class, children have money but no time and wish to care for their parents. Such people hires paid Old-Age Homes where they can get all five-star facilities. On the other hand middle-class and poor class of society who cannot afford shelter. Many of such parents are thrown out of their own houses by their own children and they have no shelter. We at ABHINAV SAMAJ provides them free shelter, food, medical-aid and in case of their death we performs their last rituals as per their religion as there are many people whose children refused to accept them even after their death just to save the money to be spent on last rituals of their parents.
Under our Program of Rehabilitation and Welfare of destitute elderly we are running an Old-Age Home 'Jai Ma Durga Old-Age Home' at Uday Vihar, Nilothi Extn., Chander Vihar, New Delhi-110041 (INDIA) where we are providing Free Shelter, Food, Medical-Facilities and all other basic needs required to elderly free of cost. We performs regular health-check-ups of all the inmates in our Old-Age Home and provides medical-aid/treatment accordingly if required. At our Old-Age Home we wish inmates could feel at home away from their own homes and help deserving people to be self-dependent to earn their livelihood at their own instead to remain on charity always according to their physical capability and their wish.
Any of us can suffer anytime this problem. I the settler of this Trust have faced the problem, many friends too. Being a senior government officer, before my retirement I have myself seen many such cases in official capacity also.
In addition to this we regularly arranges Free Medical-Camps on monthly basis for different diseases i.e. Heart-Disease, Dental, Eyes, Psychiatric-Diseases for poor people. We regularly arranges Free Legal-Aid Camps for such elderly not only for our inmates but for other needy outsider elderly also.
Further, we have got a big piece of land in Chakrata, Distt.Dehradun in Uttrakhand and in Rurkee, Uttrakhand (INDIA) to construct a big Old/Age Home and Orphanage there consisting of approximately 100 rooms. The entire land is donated to us by local farmers/owners there. Out of which eighty rooms shall be used for elderly and six inmates shall be accomodated in each room and fifteen rooms shall be used for Orphanage where appropriate orphan children shall be adjusted. Remaining rooms shall be used for other uses i.e. Medical-Dispensary, Recreation-Room, General Meeting and Dining Room etc. We feels destitute elderly and homeless children have perfect match to ful-fill each other's emotional needs. We aims to provide world-class environment and facilities to all destitute elderly and homeless children.
For this noble cause your donations are very precious for us for welfare and rehabilitation of such destitute elderly.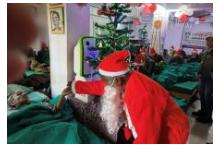 Wie Spenden funktionieren
Klicken Sie auf die Schaltfläche "Jetzt spenden", und legen Sie dann Ihren Spendenbetrag fest. Anschließend werden Sie an den Zahlungsdienstleister Ihrer Wahl weitergeleitet. Sobald Ihre Spende bearbeitet wurde, wird sie an den Wohltätigkeitsverband Ihrer Wahl weitergeleitet.
Brauchen Sie Hilfe?