Giving Opportunity
Indian Causes supporting the COVID-19 Crisis in India
Support the effort to deliver medical aid and supplies now
About this Giving Opportunity
₹23,643.18
Donated of ₹1,000.00
India is facing a massive healthcare catastrophe as the world's worst COVID-19 outbreak ravages the country. Over a three-week period in April, case counts tripled and deaths mounted. By April 28, the disease had claimed more than 200,000 lives and infections were surging past 300,000 every day. Overwhelmed hospitals have been turning patients away as they run out of oxygen, beds, ventilators, and ambulances. Many deaths have gone unreported as people go home to die or are left on their own without help.
The humanitarian catastrophe in India has galvanized global support, and aid is now rushing to the stricken country. However, with a population of 1.4 billion, India needs a massive effort to bring the crisis under control. This includes vital oxygen, medical supplies, emergency teams to treat the sick and suffering, and vaccines to offer the hope that the country will rise above the immediate crisis. When you donate to this giving opportunity, you will be helping to bring an end to the outbreak and restore an entire nation on to its path to recovery. India needs your help today.
Your contribution will help:
HelpAge India reach out to elders, homeless and migrant workers who are most vulnerable during the COVID-19 crisis
Goonj provide ration and hygiene kits for families in India affected by COVID-19
Rise Against Hunger India ensure aid is efficiently and effectively deployed and received by communities in India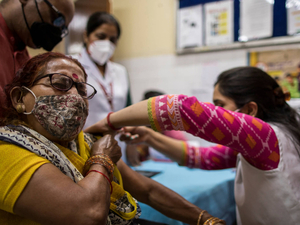 Causes in this Giving Opportunity

New Delhi, Delhi, 110016, India

Bangalore, Karnataka, 560043, India

New Delhi, Delhi, 110076, India
How Donations Work
Click any 'Donate Now' button and then decide your donation amount. You will then be forwarded to your payment processor of choice. Once your donation has been processed it will be sent to your charity of choice.
Need Some Help?