Friendraising Opportunity
Movember Canada 2019
Whatever You Grow Will Save A Bro
About this Friendraising Opportunity
CA$17,734.29
Donated of CA$10,000.00
CA$14,672.07 Donations
CA$3,062.22 Matched Amount
This Movember, whatever you grow will save a bro.
Your support will change the face of men's health in Canada by raising awareness and funds to find a cure for prostate cancer, testicular cancer, mental health support and suicide prevention.
Sign up or donate at Movember.com You don't have to grow to save a bro, you can also raise funds by walking or running 60 km, hosting an event like a quiz night or a bake-sale, or shave-down to kick off your fundraising.
In Canada, 1 in 9 men will be diagnosed with prostate cancer in their lifetime, 3 out of 4 suicides in Canada are men, and Canadian men, on average, die 4 years earlier than women. That has to change!
We all want more time with our dads, brothers, partners, friends, and sons: time for more conversations, more catch-ups, more of what life's all about. Now is our time to make it happen!
With your help, we can reach our goals of reducing the number of men dying prematurely by 25% and halving the number of deaths from prostate and testicular cancer by 2030.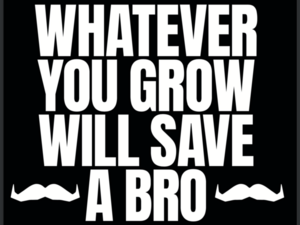 Causes in this Friendraising Opportunity

Toronto, Ontario, M5V 1Y9, Canada
How Donations Work
Click any 'Donate Now' button and then decide your donation amount. You will then be forwarded to your payment processor of choice. Once your donation has been processed it will be sent to your charity of choice.
Need Some Help?