Giving Opportunity
Celebrate the Girl Child: A Skilled GirlForce
International Day of the Girl: October 11th, 2018
About this Giving Opportunity
CA$559.47
Donated of CA$2,500.00
On International Day of the Girl Child, the UN theme for 2018 is "With Her: A Skilled Girl Force". Join us as we stand with girls everywhere as they inspire, innovate and take charge of their own future.
The 1.1 billion girls of today's world are challenging the status quo. They're redefining girlhood, and they're doing so against the odds. Across the world, girls face adversities that hinder their education, training and entry into the workforce. They have less access to information, communication technology and resources, such as the internet where the global gender gap is growing.
A quarter of young people, most of them girls, are neither employed nor getting an education or training. This year alone, 12 million girls under 18 will be married, and 21 million girls aged 15 to 19 years will become pregnant in developing regions. And yet, they persist, they succeed.
They are innovating technology to solve global challenges, they are standing up for the environment, they are raising their voices against violence and they are preparing to run for office.
CALL TO ACTION: Find an inspirational woman/women in the office and take a photo with them and hashtag #dayofthegirl #GenUnlimited #SkilledGirlForce #benevity and share on your social media platforms!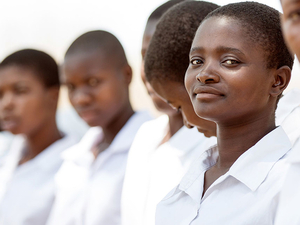 Causes in this Giving Opportunity

Toronto, Ontario, M4P 0B3, Canada
How Donations Work
Click any 'Donate Now' button and then decide your donation amount. You will then be forwarded to your payment processor of choice. Once your donation has been processed it will be sent to your charity of choice.
Need Some Help?